Zambia
We've made it to Zambia in fine shape. Our flights were fine and we spent the night in Lusaka. The next morning I thought we were just taking a short ride to the bus station but it ended up being ½ hr through lots of traffic. Lusaka's roads need to be widened to accommodate all the new cars and people streaming in to find jobs and opportunities. Apparently everyone wants to be in Lusaka and once there, everyone needs to go to the "city centre" which is where all the offices and shopping centers are found. I guess that's the British way of doing things with residential areas outside of the city. It feels very different than Maputo – no sea for one thing, and it feels like an oversized town. The market place looks like a shanty town with lean-to's covered in plastic and muddy roads in between. Garbage is everywhere, but of course parts of Maputo are not much different on that count. It just feels much less cosmopolitan. Perhaps I shouldn't be comparing the two, but they are very different. I think when tourists come to Zambia they go to Victoria Falls or the game parks.
We were on the bus from 8:30 a.m. until almost 5 p.m. It's a long ways to Western Province. It is a Christian bus company and they had Christian music playing the whole time. Most of it was African style and languages but every now and then I would pick out Yahweh or Yesu Christo. I guess they used to have a preacher also that would speak for awhile before leaving, but they skipped him this time.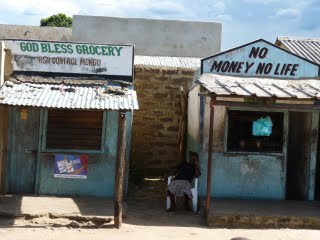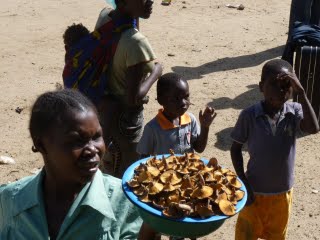 Seen along the way. Does anyone know what kind of mushrooms these are?
The program director picked us up, took us to our hotel and out to eat. We're realizing that restaurant food for 18 days probably won't work. Besides the costs that are going up, there are few fruits and many times the greens are quite salty and oily. They mostly major on meat and nshima or rice. A typical breakfast consists of eggs fried in lots of oil, white sliced bread, tomatoes, baked beans, sausage/bacon, sweet juice similar to kool-aid. We're planning to make muesli for breakfast in our room and go with that.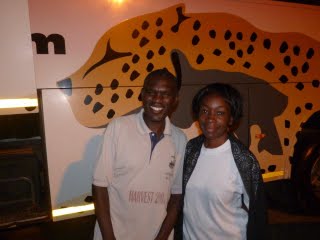 The director and his wife in front of our bus. We enjoyed meals and fellowship with them many times.
Steve is here for his quarterly visit to the program he helped start and supervises. While we're here we will also do two "The Question" seminars plus one Level 1 Seminar for Ancient Paths. We finished the first one last weekend and it was well received. For those of you who are wondering, the questions are basically "Who am I?" and "Why am I here?" We will also do a LifeWinds training for three days on grassroots community development and CHE (Community Health Evangelism). In between we're doing our regular work and absorbing Zambian culture. Many things are similar to Mozambique but some are different. The greeting is a hand clap, handshake accompanied by a slight bend at the knees and then another hand clap. I'm also getting used to being called "Madam." Many people here speak English but sometimes we have trouble understanding each other's accents. Many people only speak Losi, the local language.
Today we took a tour of some of the projects. One man has a house with laying hens and he has done very well with them. My quotable quote of the day came from him: "Poverty is not a lack of money, it is a lack of dreams." So true and he articulated it well.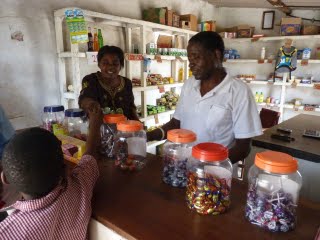 During the day he runs a small shop. Reminded me of the candy store I used to frequent as a child.
Another phrase I've heard is "I can be broke but not be poor" if you're temporarily out of money but have vision and dreams/plans of ways to get some. Poverty is just as much a mindset as it is a lack of resources. We are trying to change this mindset by the trainings we do and the way we set up programs. Giving handouts does not change the mentality, we must provide ways to earn money with dignity and we must teach them to dream (with a business plan attached to the dream.
This community is adding on to their school. They are making bricks with a Hydroform machine.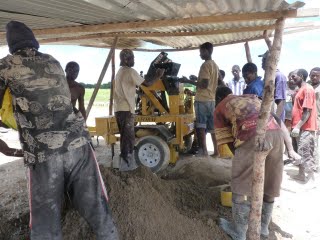 They have a good start but there is a ways to go. I suppose that's a good way to say it for many of the projects - the microfinance, jatropha trees, irrigated agriculture, feed mill, poultry project and the rest. There are many challenges, but we have made a good start and are all learning a lot along the way.