Trying to catch our breath
It's been a whirlwind week and it won't get much better until we are on the airplane to the U.S. May 2. Last week we spent most of our energy on organizing an Ancient Paths facilitator's training and then a seminar. We had a group of five that came from South Africa to help us. We had most of our meals at Evangeline's guesthouse and it was fun to interact with the other guests. There are so many interesting people who come through her doors! We had some fascinating conversations with some folks from Texas and England.
The seminars both went very well. People really seemed to appreciate them and are asking for more. It feels like we've tapped the tip of an iceberg. The next training and seminar will be in August unless we find time to squeeze in another seminar before then. Next time I will find someone to coordinate all the purchasing of food and serving the teas, etc. I did have Yolanda, one of the facilitators that helped get meals organized. We went to the market together to get food for less. I had just come from exchanging money for all the seminar needs. We were in the car and they wanted some Rands so we were exchanging the money. We put the windows up for security even though it was sweltering weather. There were several sellers surrounding the truck waiting for us to get out and buy from
them
and they were all looking at us and all our money. Yikes, that didn't feel too safe. Some of these markets have a reputation for pickpockets. Even the Mozambicans that go there don't wear any jewelry and put their money in very safe places. I was thankful for Genesis, who accompanied us and served as bodyguard for the occasion.
This week was supposed to be a calm week in the office but now Steve is planning a 2-3 days in Maxixe (6 hrs away) to work on the coconut oil facility and I am making a quick run to Macia on Friday to talk with the chicken growers. Next week Steve will be with the group of VIPs coming to look at business in Mozambique. They include the CEO of WR and his wife and the president of the Ntl. Assoc. of Evangelicals. There has been a lot of preparation for this trip and still lots of details to arrange. They will cover a lot of ground, going north to Nampula, to some villages around Chokwe and to Maxixe to see the coconut process. I will be in Beira all week, working with some women on their business plan for a sewing business and training them in the MED course. I plan to spend a day or two with Tanneken also.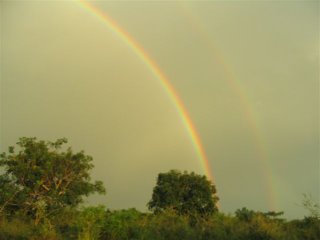 We are feeling encouraged, although we have our days when we wonder if we are really making a difference. But we know that God is the one that changes hearts and we need to rest in planting the seed and letting Him bring in the harvest. The Parable of the Sower makes more sense now and there is hope for those who will produce a harvest of one hundred times what was sown.
Here's a picture of the view we see from our rooftop veranda at work where we eat lunch sometimes.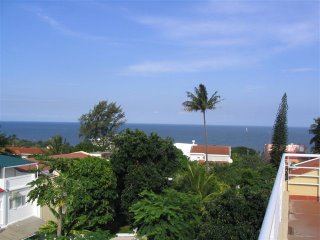 A shot of the Maxixe oil "facility" (in process).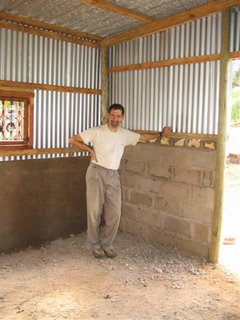 This is the drying table(below). It will be topped with a stainless steel sheet.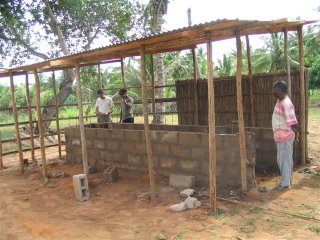 We're looking forward to seeing some of you soon!