Coconut oil production in Mozambique - first fruits in fulfillment of a 5 year dream
Last week I, Steve, made a three day trip to Maxixe (Masheshe) Inhambane about 300 miles north of Maputo to see the virgin, cold pressed, coconut oil plant that has been built and where operations started in June. I could tell you of the packed bus ride on the way up that was uneventful except for the 7 year old two seats away who threw up the bread he had eaten all over his lap, and the guy that seemed intoxicated enough to sleep 3 of the 6 hours or the "express" bus back that took 2 hours longer than the non-express because it was not full and the driver stopped 50 times if he stopped once to pick up passengers or no one at all! But that is another story.
Our vision for a coconut oil plant that would produce this high quality product started on August 20, 2002 (memorable since it was my birthday and the 30th anniversary celebration of Zion Chapel, our home church). During that meeting, a comment was made that we were praying about working in Mozambique. Afterwards a first time, visiting family came up to us and said, "Have you thought about working with the coconut as a way to promote business in the country?" Well no, we don't know anything about it. So David and Kathy Hagen started to share. (Those of you who know them might imagine we were some of the last ones out of the building that day.) However, we have no regrets as that "chance'" statement and encounter has led to a friendship and interest that will be lifelong if not eternal.
The next March we traveled to Mozambique for the first time and met Sam Grottis of WR and as I told him what I had learned over the last 8 months he said, "We could use someone like you to come and give us these kind of ideas so we can put them to work." I think he meant "put you to work." These two things are two of the key ingredients that started us on a path to serve in Mozambique with WR. The rest is history and now for the rest of the story!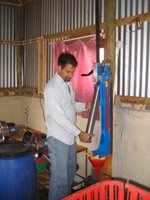 Our project manager, Romeu took me out to the factory to meet the staff and show me the product. It was exciting to see the 60 liter (15 gal) containers full of oil in the warehouse and the 70 pound sacks of coconut press cake (what is left after extracting the oil). In fact, they were running out of space to store things as the building is small. The small size was intentional to keep costs down and move the product out so it can be sold.
We went back into town with some press cake samples to see if we could find a place to sell it so we could get it out of the factory and get some money back too. The ideal place to sell would be a bakery as when it is finely ground, it can be substituted for wheat and other flours, adding protein, carbohydrates and fiber to bread. Since the bakery owner had gone home for the night, we went to an Indian owned store where they sell things in bulk. The owners were quite skeptical at first since they had never, literally never seen such a product. The closest their imaginations could come was the coconut you buy in the stores to put on top of cakes and pastries, "but you need a highly sophisticated and hygienic factory to do that don't you?" They were selling "copra" press cake that looked like dirt or dried manure and smelled like well, worse (hope no one has a queasy stomach today). They agreed to take one bag as a trial. When we put them side by side, the difference in appearance was like night and day.
The next day we had some ground in a fine sieve hammermill and took it to one of the bakery owners. He and his wife were both impressed with the quality and saw the potential for making fortified bread pretty much right away and agreed to take a 40 pound sample for a trial run. He was even willing to pay the same price for it as wheat flour, (8 cents more than we had budgeted in our plan) but it may actually be worth more nutritionally. We would offer it on a fresh, daily basis for use overnight to make into bread for local consumption. It should make softer, more nutritious bread than the water and wheat based product they have now (equivalent to pan de agua for those who know it).
It was so neat to watch as the coconuts were ground into a finely grated pulp, then put on the large stove top heated by the empty husks and shells. After an hour of being turned continuously and drying to about 10% moisture, it is put into a cylinder and pressed, producing crystal clear oil worth at least $4 per liter on the spot, $10 a liter in a South African supermarket and more in Europe. All this from about 60 cents worth of coconut. Who said money doesn't grow on trees? This could be Mozambique's equivalent of diamond mines only this is liquid, until it gets below 76 degrees. That is what makes this so exciting for me as Mozambique has the potential to be one of the top 5 leading coconut oil producers again, to say nothing of making it high value, but there is tons of work to do before that will ever happen.
We are going back again this weekend with Janelle and David and hope to bring several large containers back to Maputo to start the bottling and marketing process here.