Malawi Wonders
Steve got inspired to make some papaya jam and this is what he found on the internet and made. It was quite tasty! It's good for all of you in the sub-tropics right now with hundreds of mangos going to waste.
3 cups cup up papaya
3 cups cut up mango
3 cups sugar
juice from 1/2 lemon
Stir it all together, boil and then simmer for about 35 min or until most of the liquid is gone and it starts to set.
We have been enjoying early morning walks in Malawi (Steve is more faithful than I). Most houses in Lilongwe have high walls around them. What is interesting is that they also landscape between the wall and the street. Here are some pictures of some fascinating sculptures by some artistic gardeners.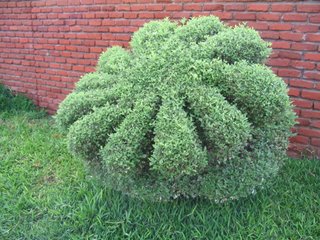 I like this scalloped border:
Steve checking out the big chair: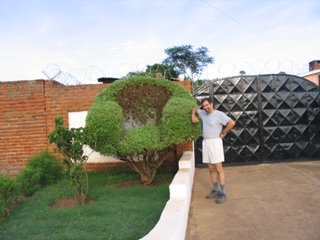 Arches, 3-level topiaries, you name it!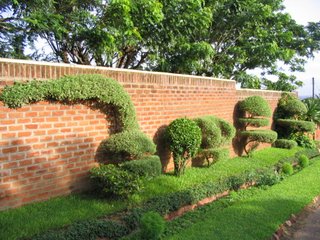 Last night we attended an international Christmas celebration at the church. We heard some beautiful new Christmas music besides some traditional songs and heard prayers and songs in Chichewa, Swahili, English and German.
Tuesday we head back to Maputo. We're excited that Joanna and Keith will be with us for New Years and the first couple of weeks in January.
We will hit the ground running on our return as we have an Ancient Paths seminar scheduled for Thur and Fri nights and all day Saturday. This will be for a group of pastors. Pray that they will be touched by God.
We'll end with a beautiful tree - the frangipani. We've seen different varieties with white and yellow flowers, pink and yellow and orange. The fragrance is incredible. I can usually smell them before I see them.