Kid's Day
Children's Day is a big thing in Maputo, we're finding out. Last Monday the schools (at least the private ones) were having parents bring food and gifts for their children. Today we celebrated at our church. The children sang two animated songs and it was fun to see them get into it, as in the past sometimes it has been "oh ho hum, I gotta sing."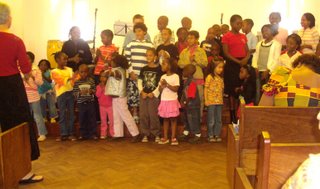 In Sunday school they got crowns to show they are princes and princesses in God's Kingdom, snacks and parachutes (made with plastic bags, a string and a little man made out of pipe cleaners). Thanks, The Chapel for giving us the extras from your recent trip.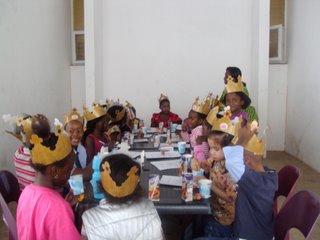 At the end of the day one of the teachers said "Well done." My response was, "I'm glad it's done!" It took some work to pull it together but I think the kids had a great time and with everyone pitching in it was not hard.
Here are a few pictures from the last church team that came in May. Here's Sybil working the crowd at Kid's Club. There were oodles of kids! Oh, I've got to tell you about one of the moms at Kid's Club. When a kid was acting up, she jumped up and started yelling at him. Sybil told us later she as saying "These old people came all the way from America and you're not listening!" Hmm, wonder who she was referring to?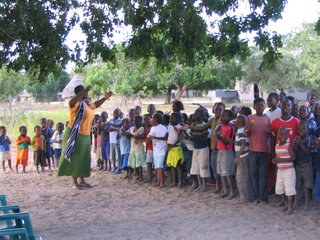 Parachute fun!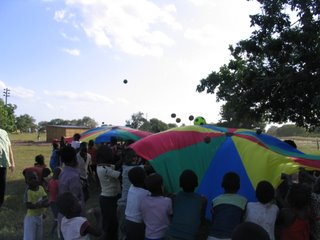 Here's the row of containers waiting for the dedication of the new water point in Chaimite. This is the third one and they have made a huge difference for the villagers. Now they do not need to fear being eaten by crocodiles in the river (it happened many times) and they can get to their fields to work earlier because they do not have to carry water as far.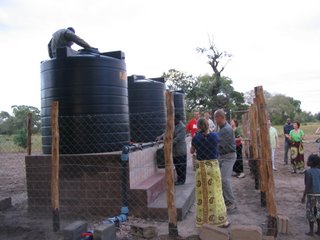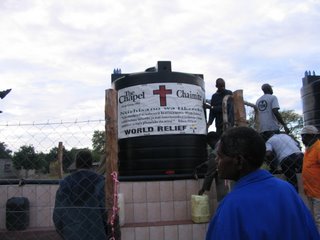 For more pictures of the trip taken by Mike and Shelise Boso you can go to http://www.youtube.com/watch?v=HwXyDzGDpg0